Bad boy Joey did it again
by Magpies | August 14, 2011 10:44 pm
Not a great game, to put it mildly, but I'm happy with the point and reasonably satisfied with the performance. The fact neither keeper had to make a real save put the quality of the game into perspective, but we grafted hard to close them down and the spirit looked ok, which had been my major pe-match concern.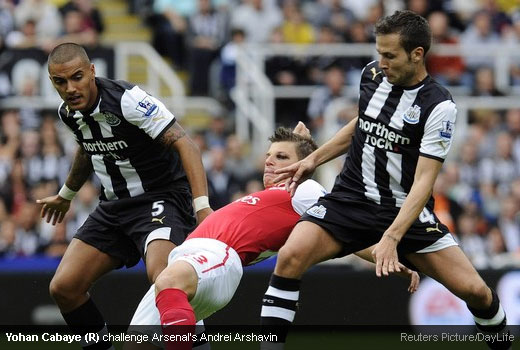 Tiote and Cabaye struggled to get any kind of hold in midfield, but I think was largely down to Arsenal playing three in there against our two. Cabaye struggled to get the pace of the game, but hopefully that will come with matchs.
He looked physically exhausted well before he was finally subbed. Tiote had an in & out game, winning his fair share of tackles, picking up a ritually stupid booking, but his passing was too often off target. He was not the only one guilty of that, and perhaps surprisingly Barton was also frequently at fault.The latters dead ball kicks were atrocious.
We did ok defensively, although Ryan Taylor got caught on the wrong side of his opponent too many times for comfort – otherwise he didn't do too badly at LB.
Up front, Ba and Shola battled gamely and worked hard, but got little in the way of service. I just can't see these two forming a good pairing. They are similar in style, and frankly Shola is physically stronger.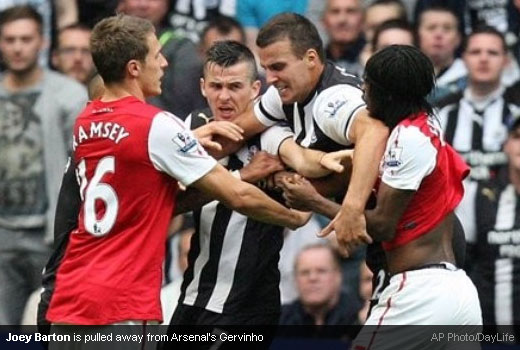 I don't know what to make of the scuffle towards the end. Gervinho's dive in the penalty certainly looked outrageous from where I was, and deserving of a card – for bad acting, if nothing else – but I don't think JB should have got involved. He never seems to learn.
No real surprises overall I guess, and I saw nothing to change my view that with the current personnel we will struggle to score goals. Without HBA we badly lack creativity. That problem will be exacerbated further if we lose Barton. However, if we can get in a top class defender to play LB, and are able to keep things tight defensively, we should have enough in midfield to pick up the required number of points – although it ain't gonna be pretty!
Source URL: https://www.magpieszone.com/bad-boy-joey-did-it-again/
---