Andy Carroll Only Thinking of How He Can Help The Toon
by shearyadi | October 14, 2010 10:04 am
Andy Carroll is a man who has created quite a furore already this season, with many neutrals backing the youngster to win his first England cap, and more than a few Newcastle fans tipping him to secure the top goal scorer title in the league this season.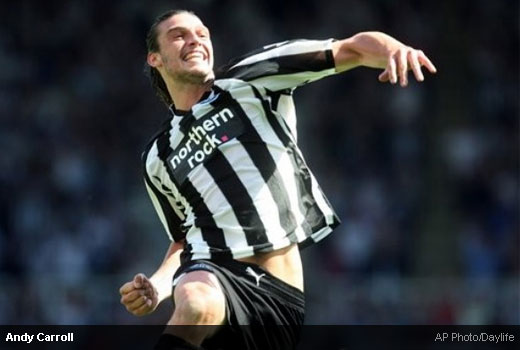 However, although this hyperbole is certain to boost the confidence of a young man who has proved he very much enjoys playing in the big time and with the burden of expectation firmly on his shoulders, Andy Carroll has also shown a real touch of maturity by stating that he is an individual who is only thinking about helping to re-establish Newcastle United as a powerful and consistent Premier League force, even if the football rumours[1] have linked him with a move elsewhere.
With Carroll having already found the back of the net four times this season, Newcastle United fans know that their young star will be vital to their plans if they are to avoid relegation this season, something the Newcastle betting tips[2] suggest they should be able to do.
However, with Carroll already being linked with big money moves to the likes of Tottenham Hotspur, Newcastle fans will be hopeful the club can cling on to a player who has a bright future.
Despite all the rumours surrounding the player, it is clear that Newcastle fans would dearly love to see the youngster turn out to be the long-term English candidate deserving of wearing the fabled number nine shirt of Newcastle United.
However, in the short term at least he will need to be at his best in Newcastle United's upcoming fixtures, which are likely to demand the best from each and every player in the starting line-up.
Endnotes:
football rumours: http://www.betfairfootball.com/
Newcastle betting tips: http://www.betfairfootball.com/premier-league/newcastle-united/
Source URL: https://www.magpieszone.com/andy-carroll-only-thinking-of-how-he-can-help-the-toon/
---