Alan Pardew was an absolute disaster for Newcastle United FA Cup adventure
by shearyadi | January 9, 2011 1:07 pm
Let's forget about 3-1 win against Liverpool's or last midweek 5-0 win against the Hammers, you only lucky there, but what you have done yesterday on the FA Cup 3rd round match was an absolute disaster and your managerial experiences are clearly not better than Chris Hughton's.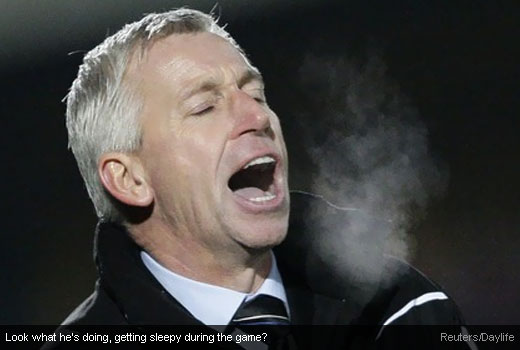 And if you read on what he said on post match interview, as quoted from Yahoo sport[1] below, you can see how daft he is knowing something that could ruin our chances to win the game but he still doing it anyway.
"The physical side of Stevenage's game was a problem for us all night. I can only say we are sorry for the result and for the performance because it was the performance level which was the problem. We were running on empty. It's been such a tough sequence of games. The team was a shadow of the team which played at Wigan and West Ham. Our energy level just couldn't match theirs. In both boxes we got dominated. The team looked tired. We had some key players missing through injury but I played the strongest team I could."
You knew that it would be a hard physical game but your decision to keep playing some of the first team players who have been involved in our midweek game against the Hammers, where all of them are playing very hard to win the game, shows that you didn't have any better managerial experience than Toon's previous manager.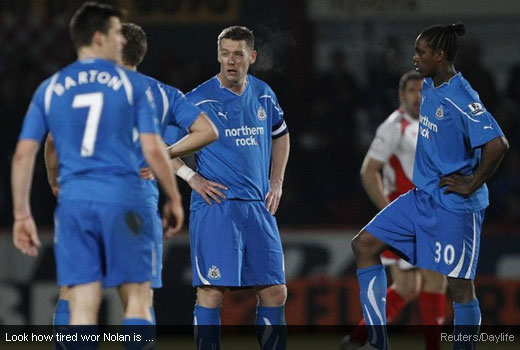 I don't think that Chris would played our first team players against a league two club like Stevenage. More, Chris only played mostly Newcastle youngsters even when we play against the likes of Chelsea in our previous Carling Cup.
Everyone with a clear mind can see they lads are looking tired and Pardew's stupid decision to bring in Tiote when we were 2 goals down in second half was more than adding salt on wounded Newcastle's team, you have destroyed the team.
Now with Tiote being suspended in our next three games, and we will play mackems next Sunday, I can't see your what so called managerial experience will make difference than what I saw last night. I'm absolutely mad and humiliated, failed to get through from FA Cup challenge in the first bid. How great is that?
Endnotes:
Yahoo sport: http://uk.eurosport.yahoo.com/09012011/58/fa-cup-managers-stevenage-aimed-5-0.html
Source URL: https://www.magpieszone.com/alan-pardew-was-an-absolute-disaster-for-newcastle-united-fa-cup-adventure/
---