5under1and v Newcastle United – 10 Gladiators against 13 useless men
by shearyadi | October 21, 2012 12:33 pm
Before the game was started today I have a slight concern that the dirty mackem were desperately want to see Tiote being sent-off in no matter what and they have to thank their extra man in the field for it.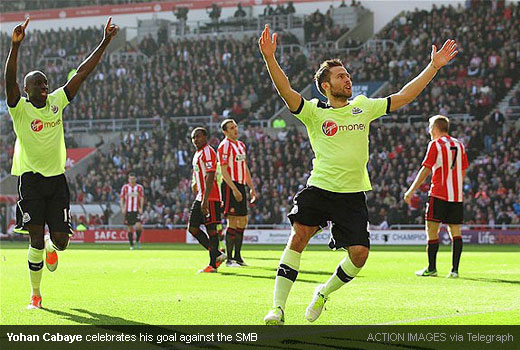 Yohan Cabaye gives the Magpies off to the perfect start in just three minutes of play and although the mackems and their helpers throwing everything they can in search for an equaliser, we held to our lead relatively comfortably.
It was until the 25th-minute before a disastrous moment happen when their 12th men, the referee Atkinson think that Tiote's tackle was his chance to give a little joy to already sad mackems and produce a red for his challenge on mackem's useless striker Fletcher.
And guess what, the 13th men who was act as the co-commentator for today's match, their very own Matt Le Tissier immediately said that Tiote's challenge was really deserved a straight red card.
What about Sebastien Larsson, a horrible cheating Scandinavian shite, he has got away with bloody hell of handballs in the box, not to mention he kicked Shola in the chest and didn't get a single booking from the ref.
If it stays 11 vs 13 we would have absolutely put them down deep in a week full of misery. And even, with 10 vs 13 we were almost won it before O'Shea header hits Ba on the way past Krul, 5 minutes before the end of normal time.
In the post-game interview, Pardew told Sky Sports: 'It was a magnificent effort. We said to the players before the game how important it was to the fans, we've now shown how important it is to us.
'Playing an hour with 10 men, if we could have just seen it out it would have been one of the greatest victories ever here. But it's a great point and I'm very proud of my players.'
Source URL: https://www.magpieszone.com/5under1and-v-newcastle-united-10-gladiators-against-13-useless-men/
---