Once again we are utterly incapable of defending competently, and this always kept the mackems in with a shout, even during a 20 min spell in the 2nd half when we were all over them – but where any long straight ball down the middle was invariably enough to cause us fits – as indeed has been the case all season.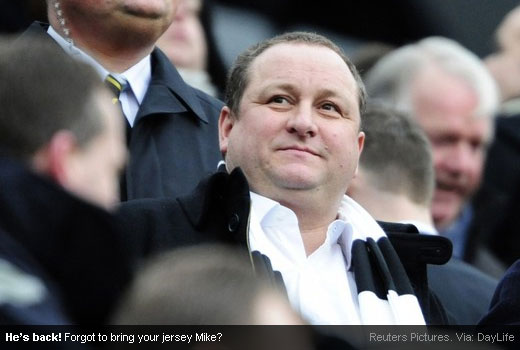 This despite having the best defender on the field in young Bassong. He put in the tackle of the season on Jones as he was steaming forward, but then seemed to pick up a side or rib knock in the challenge that finished that ace dick, Djbril Cisse, and he was struggling towards the end. Hopefully he will be ok, because we really can't afford to be without him with Coloccini still so shaky.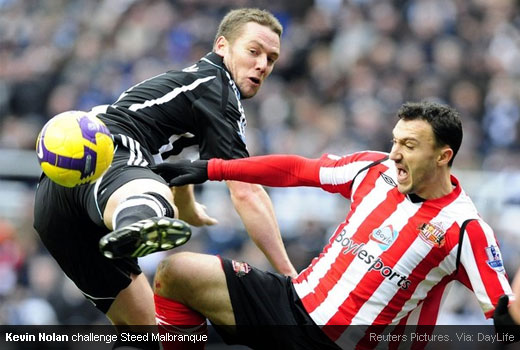 I thought both FBs did well today. Taylor had a barnstorming 2nd half charging forward at every opportunity, culminating in the disputed penalty award. Having watched the replay 2 or 3 times it certainly looked to me as though Malbranque caught the back of Taylor's leg which brought him down. This contrasted with Duff's pitiful dive in the area that deservedly brought him a booking 10 mins earlier. Actually, he may well have been slightly touched, but he was clearly looking for it and his dive cost him and us.
Despite a few trademark displaced passes, I thought Enrique had a really good game, linking very well with Jonas. There is a very good LB lurking within young Jose Enrique; whether our rag-bag of coaches can bring it out is the question. I actually really admire this lad.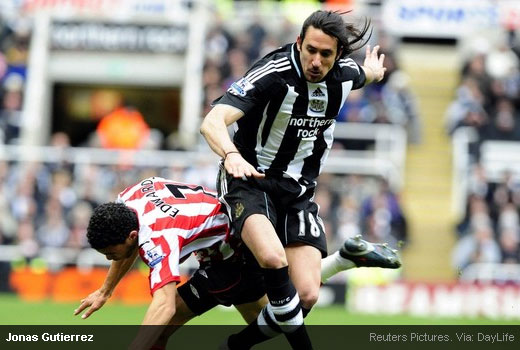 This young fella has been subjected to a large pile of criticism, and it would have been very easy for him to just shrug his shoulders, give up and wait for the inevitable free transfer back home. However, he hasn't done that. He has kept his head down, worked hard, and seems determined to make a success of things at SJP. I sincerely hope he makes it.
Duff was frustratingly ineffective, although I actually thought he improved as the game wore on, and had a half decent 2nd half. Gutierrez had a smashing game, although his end product was largely disappointing. He attracted a lot of crude challenges, at least one of which should imho have brought a red card when Bardsley crashed through the back of him and landed him in a heap on the cinder track. They presumably have abandoned the idea that tackles from behind attract red cards?
I thought Butt and Nolan did ok in central m/f, without ever dominating. However, the lack of genuine creativity from midfield was once again palpable. As ever, Butt gave his all, but once again showed his tendency to give the ball away with sloppy passing.
I thought Nolan had a really solid game considering he only signed for us on Friday. Unlike most of our midfielders, he does the simple stuff well – wins tackles, picks up his man when not in possession, and can pass the ball to a colleague. He barely gave the ball away all afternoon, which imho is a massive improvement on what we have become used to. He is also a talker, and tried to do some organising, despite having only just walked through the door. I reckon he will be the next skipper of NUFC.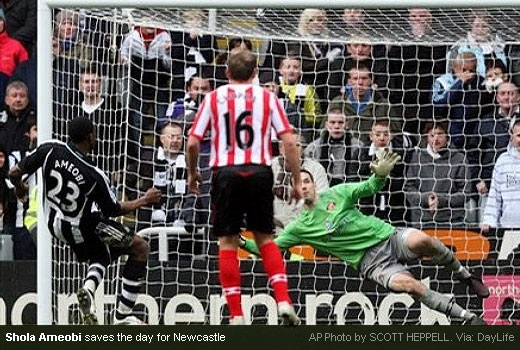 Up front, Ameobi and Carroll tried hard, but lacked any kind of understanding. Carroll won a fair bit in the air, and headed a cross against the bar in the 1st half. Shola was a frustrating as ever. He had an awful 1st half, but a better 2nd when he seemed to recover his touch.
He bravely took the penalty, while 50,000 finger nails were being chewed. I was sure he'd miss it, but shouldn't have doubted him. In truth, he could and perhaps should have had a hat-trick. He ballooned a great chance over the bar in the 1st half when Taylor picked him out after a great run down the right wing, and missed a very good chance late in the 2nd half that would have won it for us.
I don't think you could really complain today. The players gave 100%, gave away yet another soft goal, but kept going, and upped the effort in the 2nd half. The worrying thing, of course, is that that is yet another home draw, and another 2 home points dropped: drawing at home while losing away can only produce one inevitable conclusion.
We just have to keep going, and 3 points at WBA next week would provide a massive boost going into another tough run of fixtures.