Steven Taylor has finally committed his future to Newcastle United by signing a new three year contract. The 22-year-old began negotiations over a new deal last season and there were concerns that other clubs would come in for him while his future was uncertain. However, Taylor has ended any doubt by committing his future to Newcastle.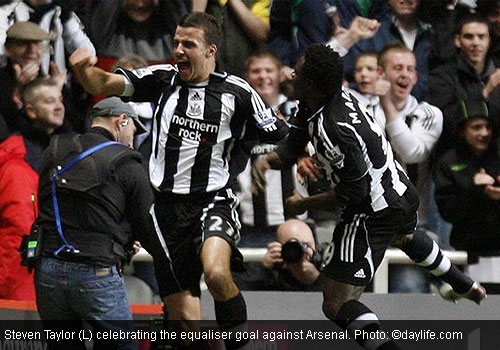 I have to say that I am relieved about this. He is a huge part of Newcastle's future and if Kevin Keegan would have lost him at this stage – there would have been uproar amongst the fans. In fairness to Taylor, he has always said that Newcastle were the club for him and as a local boy, his commitment to the club cannot be underestimated. He has always given 100% since emerging from the academy and has a big part to play next season.
One thing he has proved, is that he is a leader of men. Taylor has captained the England Under 21 side on a number of occasions and I will always remember how he scored a penalty for the Under 21 side in the European Championships last summer despite being injured. He put in a heroic performance for his team and it was a shame they eventually lost of penalties. Although when an England team are faced with a penalty shoot-out, all football odds will tell you that they are expected to lose!
At 22-years-old, now is the time for Taylor to really push on as a player. He has enough experience to be the main man in Newcastle's back four. Under Sam Allardyce, his confidence undoubtedly went down and he was out of the side. Now Keegan is at the club though, he will be starting the season as one of the first choice centre backs – now it's up to him to keep it. Trying to shore up Newcastle's defence is a tough task for anyone, but Taylor is capable and I hope he delivers. He deserves to succeed.
One thing for sure, is that this coming season is a big one for him. If he can consistently turn in positive performances for Newcastle, then he will give himself a chance of getting into Fabio Capello's England squad. Fair enough, the likes of Rio Ferdinand, Jon Terry, Jonathan Woodgate, Ledley King, Sol Campbell, Micah Richards, Joleon Lescott and Matthew Upson are ahead of him in the pecking order at the moment, but Taylor does have something in his favour – Stuart Pearce. The England Under-21 manager selected Taylor as his captain and obviously rates him as a professional and a player.
If Taylor can be a commanding figure for his club team and continue to lead by example for the Under-21's – I am sure Pearce will put in a good word for him. Who knows maybe Taylor could even captain his country one day? Maybe I am getting slightly ahead of myself!
One thing I am optimistic about is Taylor having a good season this year. In fact, I would even like to make a bold statement about him. If I was to bet on the Premier League team of the season, I would fancy his chances of being there – here's hoping anyway!