A hard won point against a very well organised team. I couldn't fault the effort, but the plain facts are that without Ben Arfa and Barton we lack creative quality in midfield.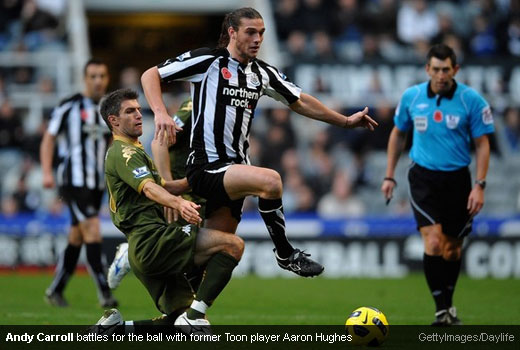 We struggled to establish any measure of control in midfield, and although we got on top for spells in the 2nd half, a draw was probably a fair result. Both keepers made a couple of good saves, and Fulham hit the bar.
Nolan worked his socks off but his lack of mobility was painfully apparent in the engine room. Guthrie floated in and out of the game without making a real impact, although he did provide one superb cross that Lovenkrands unfortunately headed straight at Schwarzer.
In the absence of Barton, Jonas was the one we were looking to to create something for the strikers. He was a massive disappointment, and personally I'd have replaced him with Routledge at half time.
Tiote had a decent game, and was probably the pick of a stuttering midfield, but he picked up his usual booking and will now miss the next game – something we can ill afford.
We defended better than against Blackburn, although Williamson looked nervy and was booked for the second of two late challenges after his man beat him rather too easily.
To avoid a red card I'd have have replaced him at half time, but to his credit he had a pretty good 2nd half. Colo was the pick of the defence, although Enrique did a lot better going forward than his left wing partner.
Lots of huff and puff, but a shortage of real quality going forward. We are increasingly tending to hit long balls towards Carroll rather than working the ball patiently and waiting for the opening.
This is costing us possession, and isn't doing Carroll any favours either. As a team we also have a tendency to want to play the difficult ball, or try something clever, often in dangerous positions.
This really is something we should be trying to cut out. It has already cost us important goals, and will continue to do so.
Not a great game, not helped by another cr@p Referee, but no shortage of effort and at least it's another point in the bag.