When we got to the turnstiles they was a bit of a cuffufle with lots of folk being directed towards two stewards beside an exit gate. They were checking smart cards that were preventing entry. Trouble is they were rejecting everybody's tickets, and telling them they needed to go to the Box Office.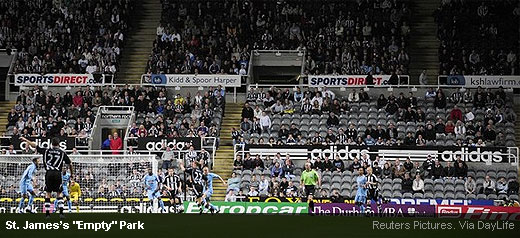 The queue got longer and longer, and those in it got more and more angry as kick off time came and went. The senior steward's decision to close the gate then came close to causing a riot, and the Police needed to wade in to clear folk away – all folk who believed they had tickets for the game.
I wandered away and decided to retry my smart-card at another turnstile where by now, 10 minutes after ko, there were no fans. I explained what had happened and the lady on the turnstile told me the club had forgotten to credit the smart-cards of people who pay for Cup games by direct debit, including me – hence the farce, and near riot that I'd just witnessed.
Faced with the choice of going home or paying at the turnstile, I made the mistake of electing to pay, and finally got in at 8:03pm. The night deteriorated from there.
You couldn't make it up, although in the case of NUFC I guess basically anything is possible – resulting in several hundred more customers being utterly pissed off – before they even got in!!
As for the game – two poor teams played largely across the pitch. We competed in the 1st half, but apparently gave up at HT. We were shocking in the 2nd half, particularly in midfield, where Butt and Cacapa seemed to run out steam, stopped working, stopped tackling, stopped running, and allowed Spuds to get on top, without ever dominating.
Butt was really appalling tonight, and tbh I'd have taken him off even if he had to be replaced by a kid. I fear his legs have finally gone
Cacapa is a tidy footballer, but he doesn't think or react quick enough to play in central midfield in the Premier League. Duff runs around like a fart in a bottle, and creates sod all.
Two mistakes once again resulted in goals, and I'm afraid Taylor was at fault on one and gave away the 2nd On the 1st, Butt once again gave the ball away, Taylor left his position to fill the gaping hole left by Butt, leaving Pav….the Russki – unmarked to head in. On the 2nd Taylor lost the ball, trying to beat an opponent 10 yds outside the penalty area – game, set and match.
We lack composure in defence, lack everything in midfield and created very, very little going forward.
What else? Oh yes, Geremi was utter cr@p – another who is clearly past his sell-by date – while Bassong played Lennon out of the game and was probably our MOTM. He didn't have much competition.
We are the deepest possible dood, and no one at SJP seems to care…