Newcastle centre forward Andy Carroll will be out injured for up to three more weeks with a thigh strain, according to his club. The in-form striker missed the 1-1 against suitors Tottenham on Saturday, and will likely miss the games against Fulham, Arsenal and Blackburn, but could return for the away tie against Birmingham.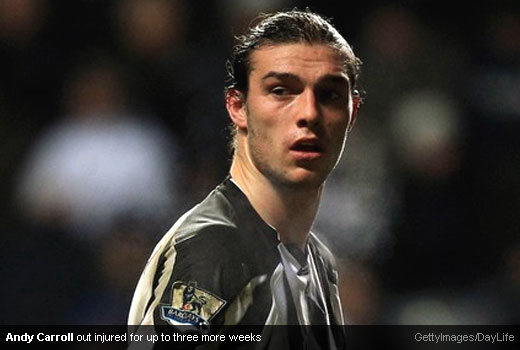 Rumours have circulated amongst those placing football bets this week that 22-year-old would be missing until March, but a club spokesman denied the injury is a long term issue. He said:
"There's no factual basis to the report. He will be out for two to three weeks as boss Alan Pardew said before the Spurs game."
Carroll has enjoyed a spectacular start to the season and has netted 11 times this season, but has been absent since the 2-0 defeat against Spurs on December 28th.
Tottenham are just one of the clubs rumoured to be interested in signing the striker who has forced himself into England Boss Fabio Capello's plans, earning a starting place in the 2-1 defeat against France at Wembley. The England boss has expressed an interest in pairing Carroll with Wayne Rooney when he returns to full fitness.
Newcastle will not be in action this weekend after being knocked out of the FA Cup against Stevenage. The magpies face Fulham on Ferbruary 2nd and will look to build on their solid first half of the season and consolidate their 11th position in the league. Football betting patterns have emerged which show Newcastle have yet to be ruled out of the race to secure European football next season.