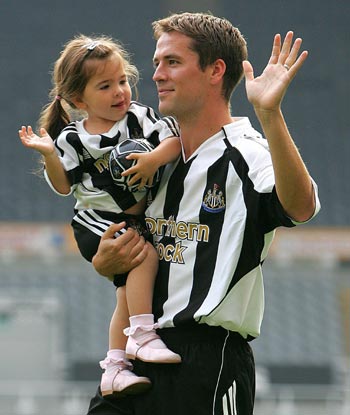 Newcastle United's Michael Owen promise the Toon Army that he will keep scoring at every chances and to prove he is committed to the club and supportersOwen has been put in some critics which suggested his rapid recovery was only to do with his desire to play for England rather than for Newcastle United.…
I don't know whether we have to feel grateful or not, but Spurs number one will missed a trip to St. James' Park on Monday. While Newcastle will all fit except Mark Viduka and Alan Smith are the reguler team members that have their own reason to miss the match.
Spurs will also missing some of their first team squad with Ricardo Rocha (ankle), Kevin-Prince Boateng (ankle), Benoit Assou-Ekotto (knee) and Ledley King (knee) while …
Well, if someone coming out with that kind of expression to see how St. George Cross suffering an awfully defeat in Moscow last Wednesday is totally mad.
Although Big Sam is relieves that Michael Owen is coming home safe, he must be feel sorry to see how Steve McClaren side is in danger at the moment."He should be allowed to see it through to the end. We are not out of it. We have still …
Newcastle United will host Spurs on Monday night Premier League clash at St. James' Park. The game will also note as the first come back for Magpies midfielder Joey Barton after securing pass his injury.
Newcastle have a magnificent record against the North Londoners in the Premiership as United have scored more times than what the club done to any other England Premier League team.
The last meeting on their own land, Newcastle roaring for …
Newcastle United chairman Chris Mort is expressed his feeling about the media bust-up between the player and manager. The Flamboyant chairman is insists that there's no such friction between the Toon Boss and Owen.
He told the Chronicle: "It is disappointing because the reality is that Newcastle United are delighted that England regard Michael so highly. It is quite right that they should because he is clearly a tremendous striker for his country as well …